BY MICHAEL GOLDFARB

Whenever you go on assignment you know you are going to make a packing mistake. Usually, you're in a hurry and forget to put something important in your bag. Often the mistake doesn't become apparent until you're well into your trip … that extra pair of underwear would come in handy because you're wearing the same briefs for the third day in a row and you are no where near a place to rinse them out and have them dry before hitting the road again.

MICHAEL GOLDFARB

My packing mistake for Bosnia became apparent within minutes of leaving the Sarajevo airport parking lot. I had packed too much. I had packed for war its attendant scarcities which was how I had known Sarajevo in the past. However, I arrived into a city at peace and with the basics that any traveler needs easily available. My special needs: audiotape and AA batteries for my tape recorder could be bought at any newsagent just like at home in London. All the other incidentals: toiletries, undies or a fresh pair of socks, t-shirt could be had easily enough.

Undoubtedly this availability of consumer goods contributed to my positive first impression of the country five years after the war ended. The ordinary sight of children playing happily was more important to that impression as was the considerable amount of reconstruction. But the relaxed look in most faces contributed to it as well – and I wonder if some of that relaxed look comes from having the basics available in the shops. Of course, you have to have money to buy the basics – but that's another story.

I stayed at the Hotel Hondo on top of Bjelave, one of Sarajevo's many hills. When I say Sarajevo is hilly I mean San Francisco hilly. This city hosted the Winter Olympics and sits in the midst of some serious mountains. The room I was given would have been perfect for a couple or small family in town on a pre-war ski holiday. It had a little terrace facing west over the city. The weather was fine my first evening there so I got a beer and sat outside and watched the sunset while listening to the Muezzin from the Mosque around the corner call people to evening prayer. Again, during the war to sit in this position would have been foolish, some of the hills I looked at were Serb territory and who knew what kind of gun might be trained on you. I looked around the hills and was awed by the silence.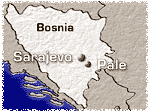 BOSNIA - HERZEGOVINA
-AP-

Of course, the residue of war is just under the surface … literally. There are still an estimated one million landmines buried around the countryside. This is the final insult by the warring factions to the land they allegedly love. Bosnia is one of the most beautiful countries in Europe. It has an Alpine terrain and a Mediterranean climate. The high meadows are lush, green and soothing, the mountains leading to the sea are stony, stark and erupt violently from the earth. Everywhere you drive there is a strong temptation to pull the car over to the side of the road and just go for a walk. This is highly unadvisable.

While I was in town, a colleague who has been based in Sarajevo for a little over a year decided to do a bit of rock climbing. It's her hobby and she had already found a climbing partner, a Slovenian working for the International Community. Her partner said he knew a trail in the mountains between Sarajevo and Mostar that had a great rock face at the end of it. So off they went. Somehow they missed the trailhead and found themselves walking through a meadow towards the rock face they wanted to climb. Halfway through the field they came across the police tape used to mark a minefield. It was torn so they had no idea where the mined area began or ended. All they could be certain of was they were standing in the middle of it. My friend had her cell phone with her and knew the number of a mine clearance worker. She was advised to stay put and a helicopter would be sent to get her out. Unfortunately, the first serious rainstorm of the autumn was brewing complete with thunder and lightning. It was several hours before the electricity storm abated and the chopper was able to get my drenched friend and her climbing partner out of the minefield.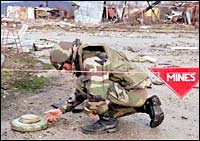 French IFOR soldier disarms mine near Sarajevo in Bosnia. -AP-

If there were no minefields than the Bosnian economy would be in better shape than it is. The country could be a tourist landmark. Indeed, in the years before the fall of communism, this part of Yugoslavia received many visitors – tourists from northern Europe who didn't need luxury but just wanted guaranteed good weather in spectacular surroundings. Now, the economy is hard to figure out. The roads are busy all the time. Construction work is a seven-day a week job. But where the money for rebuilding houses or running cars comes from isn't clear. The International Community has put 2.2 billion dollars in to reconstruction projects but I don't think that's where the money comes from. Hundreds of thousand of Bosnians from all three communities left the country during the war. Many are still abroad. Bosnians are hard working. They may be refugees in Germany or the U.S. but they earn and they send money back home. There are other ways of earning money. It is generally lumped under the title: Corruption. But what is "corruption" in Bosnia is what is called "patronage" in big American cities.

If I could go back to Bosnia tomorrow, I would. Well, maybe not tomorrow, it's the grotty end of autumn now and it rains or is foggy every day. But I would go back for sure in September, the best month of the year anywhere in the Eastern Mediterranean. Sarajevans are quite wonderful people: cultured, great conversationalists blessed with the wit and tolerance that comes from centuries of loving in a close, society of mixed ethnic groups. They are like a collection of Upper West Siders from Manhattan – except instead of being mostly Jewish, they are mostly Muslim. Someday I will simply go to Bosnia for pleasure. But I will not go hiking without a Landmine Group map.