Published July 7, 2010
WBUR's new iPhone app is live now in the App Store. It's free. Go get it! (I'll wait.)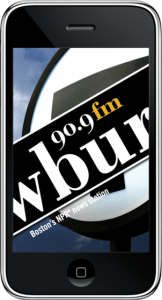 The details are well-covered here and here and here, and Hubbub hosted a live chat to answer your questions about the app. Here are the Greatest Hits:
Stream us live
Read and share the latest NPR and WBUR news
Listen to 20+ programs on demand
Wake up to the WBUR alarm clock
Submit breaking news tips
View your member benefits on a map
Generate a virtual membership card to instantly redeem benefits
Search
Hope you love it. Please report bugs and request features in the comments. Be specific, and be constructive! Anything else will be ruthlessly deleted. We're already working on iOS 4 support for the next update.