The Hawk's Guide To Life, Love, And Happiness
Noisy sex, lots of food, long naps–Helen Macdonald, author of "H is for Hawk," shares unconventional life lessons from a raptor's perspective.
By Vicki Croke
How do you get past grief and go on living after the death of someone you love?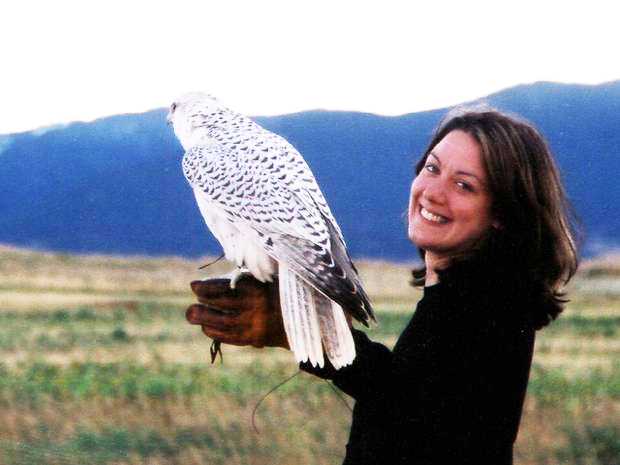 "What's precious about animals is how different they are from us. It's good to love things that are not like us. Learn to love difference," says Helen Macdonald. (Seen here with a Gyrfalcon). Courtesy of Helen Macdonald.
For Helen Macdonald, author of the breathtaking and bestselling new book "H is for Hawk," the answer to finding her way after losing her beloved father was to raise and train a goshawk named Mabel.
Her journey is profound, poetic, and deeply moving. In my review of "H is for Hawk" in the New York Times, I wrote that "Macdonald renders an indelible impression of a raptor's fierce essence — and her own — with words that mimic feathers, so impossibly pretty we don't notice their astonishing engineering."
Animals-as-healers is a common motif, but Macdonald's voice and insights are beautifully uncommon.
She writes: "I was in ruins. Some deep part of me was trying to rebuild itself, and its model was right there on my fist. The hawk was everything I wanted to be: solitary, self-possessed, free from grief, and numb to the hurts of human life."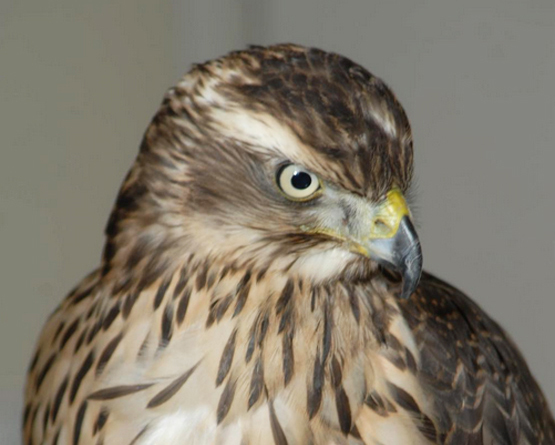 Mabel, the beautiful goshawk who filled Helen's house "with wildness as a bowl of lilies fills a house with scent." Courtesy of Helen Macdonald.
Raising a hawk is not for everyone. But introducing Macdonald at a reading at Harvard Book Store in Cambridge recently, I had the chance to ask the falconer for the hawk's guide to a few essentials:
LIFE
"My books said that goshawks were highly-strung remorseless killers. Mabel was those things, of course. But she was also playful, funny, bewitchingly fascinating and friendly. She taught me that things you meet in life are usually far more complicated and interesting than they seem."
LOVE
"The goshawk taught me that ultimately, what's precious about animals is how different they are from us. It's good to love things that are not like us. Learn to love difference."
SEX
"Goshawk sex is nervous, noisy, and extremely quick. It's not ideal as a model, really it's not."
FOOD
"Eat local; eat fresh; eat free-range meat, don't waste anything. Also, it's completely fine to eat so much you can hardly move and then spend an afternoon in a slow doze while you digest it."
REGRET
"Hawks regret nothing!"
WEARING A BELL ON YOUR TAIL (falconers place bells on the birds to hear where they are)
"It's a good thing to let people know that you're there. For all the lure of invisibility, if you're utterly silent it's easy to get lost."