Zero Poaching: The Rhino Success Story In Nepal
The fighting spirit of a greater one-horned rhino, who was translocated days ago, illustrates what's going right for the species.
By Vicki Croke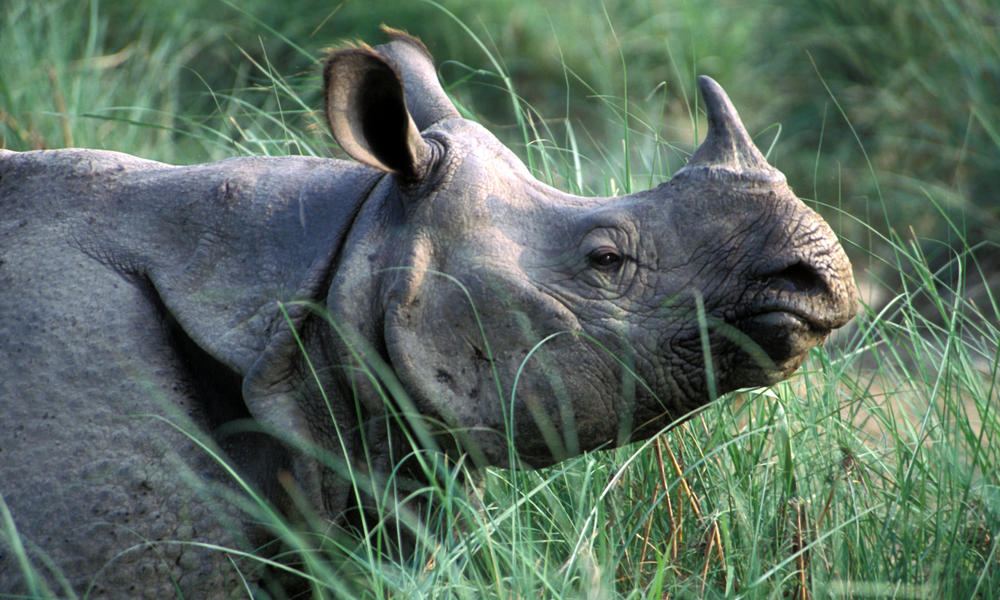 "We can celebrate the greater one-horned rhino as one of the biggest success stories in Asia," says WWF's Nilanga Jayasinghe. Courtesy: World Wildlife Fund.
The male greater one-horned rhino—big, fit, and in peak breeding age—had to back out of the wooden crate which was perched on the bed of the blue cargo truck. He was like an earthquake in a box—crashing his way backward, shaking the entire vehicle, and nearly throwing the men atop onto the ground. Once out, he wheeled his tank-like bulk around, butting the offending crate and glaring at the conservationists who had engineered his 10-hour road trip from one Nepalese national park to another. "He was ready to take someone out if there was someone there," says Nilanga Jayasinghe, of the World Wildlife Fund. "He was mad."
One of the male rhinos muscles his way into his new home. Video: Nilanga Jayasinghe.
The fighting spirit of that rhino, who was released this past weekend, perfectly illustrates the robust conservation victory for rhinos taking place in Nepal and India. And as we hear of the unprecedented slaughter and massive decline of other species and subspecies of rhino around the world, here is a place where one kind—the greater one-horned, or Indian rhino—is increasing its numbers, and, in Nepal, doing what may seem like the impossible: bringing poaching to a screeching halt this past year.
With beefed-up protections in place and a surge of community-involved anti-poaching efforts, the country is reporting that every one of its estimated 645 greater one-horned rhinos has remained safe from poachers in the last year (the third year of zero-poaching, in fact, since 2011).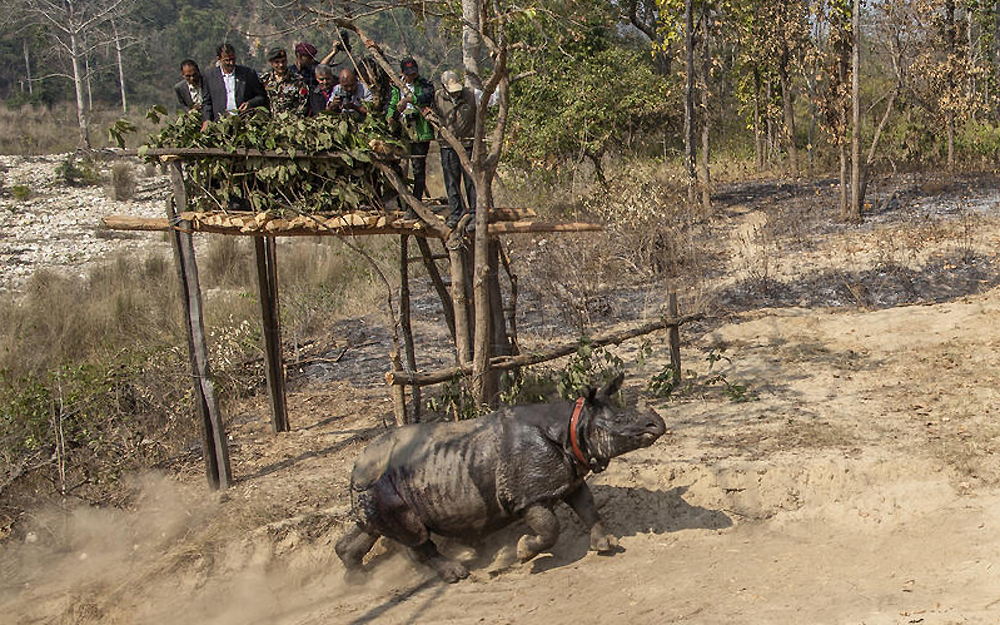 The five released rhinos have been collared and will be monitored over time. Photo: Samir Jung Thapa/WWF Nepal, Hariyo Ban Program.
"We can celebrate the greater one-horned rhino as one of the biggest success stories in Asia," says WWF's Jayasinghe. "It's the only large mammal to have been down-listed from endangered to vulnerable on the IUCN [the International Union for Conservation of Nature] Red List of threatened and endangered species."
Conservationists in the region, including those in India (which has the largest population of these rhinos) and Nepal, with long-standing help from the World Wildlife Fund and other conservation groups, are beginning a new program to expand both rhino territory and numbers. Translocation is a big part of the story. According to Jayasinghe, moving rhinos ensures the animals are not overcrowded, that they are less vulnerable to the spread of disease, have more access to resources, and, with more room to roam, that they have the space to breed.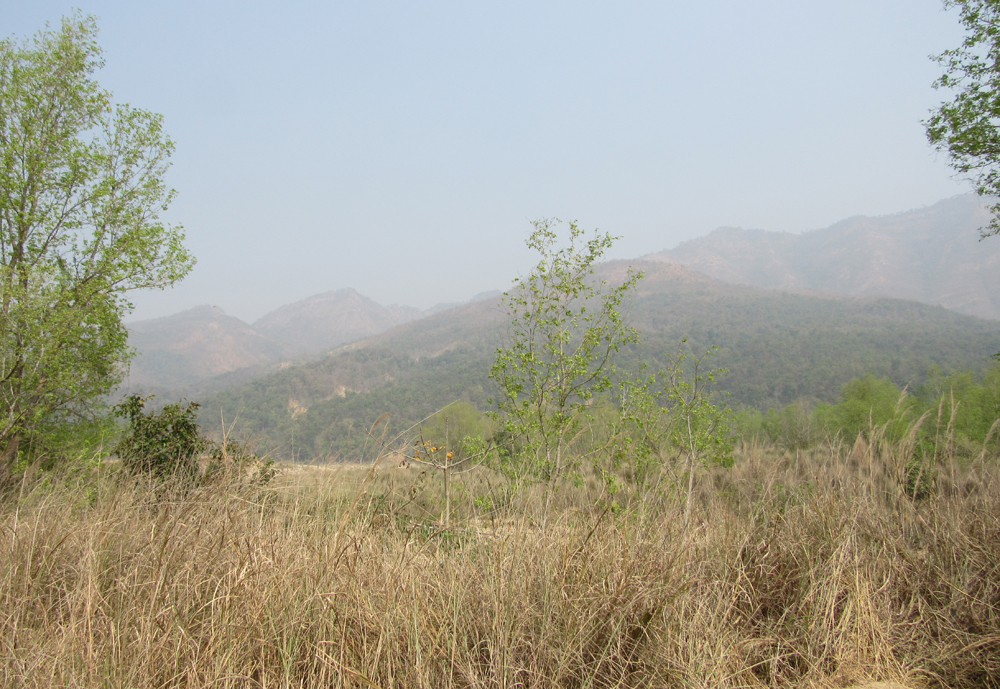 The rhinos will now live in the Babai Valley in Bardia National Park. Photo: Nilanga Jayasinghe.
Last Tuesday, an ambitious plan to translocate about 30 rhinos over the next three years from Chitwan National Park (where more than 600 of Nepal's rhinos live) to the less rhino-dense Bardia National Park and Shuklaphanta Wildlife Reserve began. This first wave of translocations finished up over the weekend with a total of five rhinos—two males and three females successfully released.
It was a huge effort involving about 250 people, including conservationists, biologists, soldiers from the Nepalese Army, and local villagers. There were also 33 working elephants—the ultimate all-terrain vehicles—who could push through the tall, dense stands of "elephant grass" in order to find and circle the rhinos.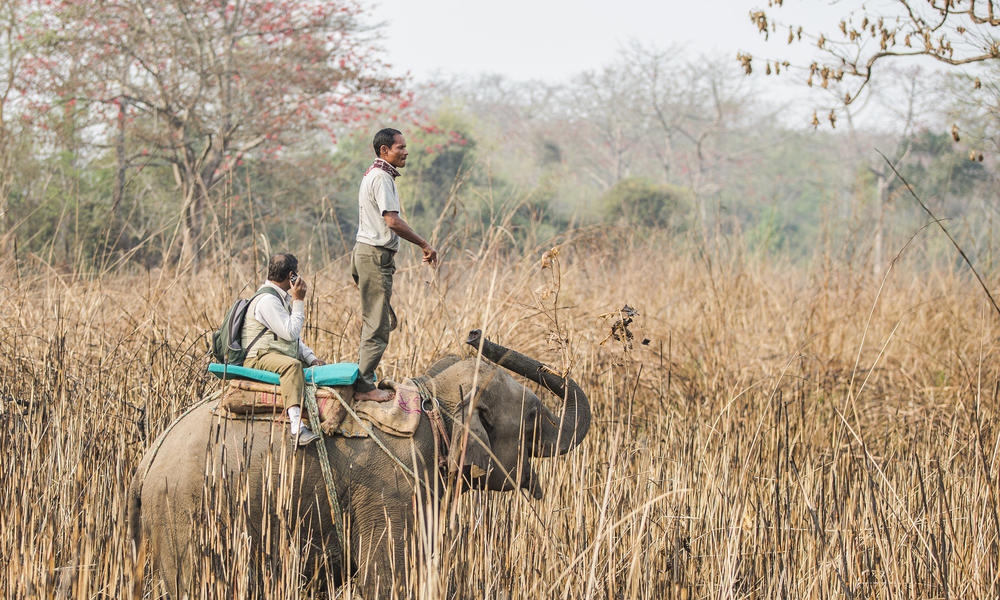 March 1, 2016. A scout team in Chitwan National Park rides an elephant through the tall elephant grass, looking to identify a rhino for translocation. Photo: Samir Jung Thapa/WWF Nepal, Hariyo Ban Program.
The animals selected for translocation were tracked, sedated by veterinarians, examined and satellite-collared, one by one, over several hot, dusty days, and then loaded onto a truck for the cooler move overnight to Bardia and release into the wild.
According to WWF, "Nepal's growing rhino population reflects a top level commitment to species conservation, a well-coordinated protection response between the national parks, Nepal Army, Nepal Police and local communities, and the support of conservation partners such as WWF and the National Trust for Nature Conservation."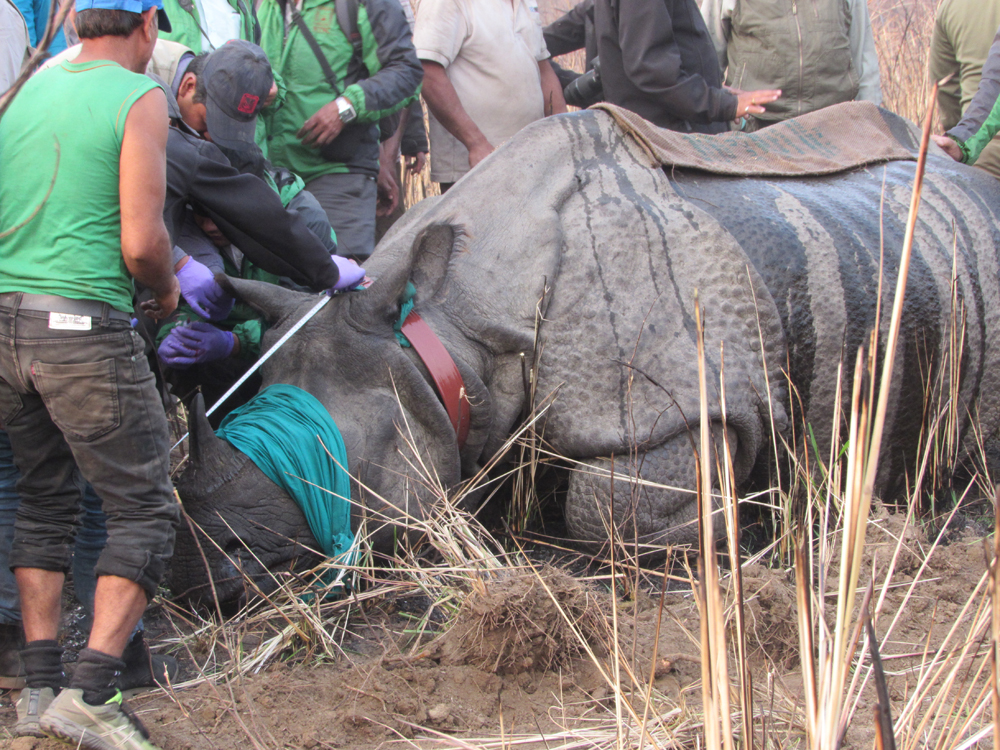 After the rhino is darted and sedated, measurements are taken and a satellite collar is fitted. Photo: Nilanga Jayasinghe.
WWF released a statement from Agni Prasad Sapkota, Minister of Forests and Soil Conservation: "The expedition is an important step towards creating a second viable population in the western part of Nepal's Terai Arc landscape. Our bigger goal is to bring rhinos back to their historical number of 800 in Nepal."
Greater one-horned rhinos are the largest of the Asian rhinos and can weigh up to about 6,000 pounds and stand six-and-a-half feet at the shoulder. On land, they can run fast—about 34 mph—for short periods of time. They are also strong swimmers. Their vocalizations, according to Eric Dinerstein's book "Return of the Unicorns," include snorts, honks, bleats, squeak-panting (a "charming" sound reserved, generally, for courtship), moo-grunting, and humphing.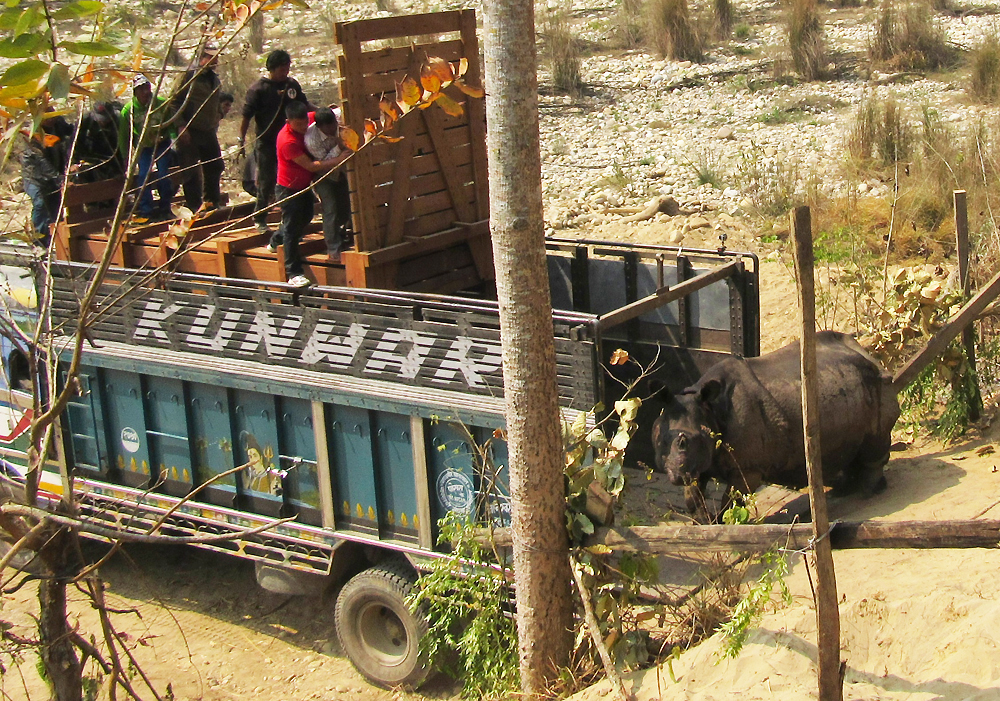 The release: One of the rhinos backs out of the crate. Photo: Nilanga Jayasinghe.
Efforts to help rhinos here have a long history. At the turn of the 20th century, the world population was down to perhaps fewer than 200 greater one-horned rhinos—this due to sport hunting and habitat loss. Today, the population is estimated to be 3,500. But the path has occasionally been bumpy.
Rhinos from Chitwan have been relocated to Bardia before, for instance. Between 1986 and 2003, 87 animals were moved between the parks. But by 2006, during a time of political change in the country, nearly all the rhinos in Bardia had been killed by poachers—37 wiped out in 2002 alone.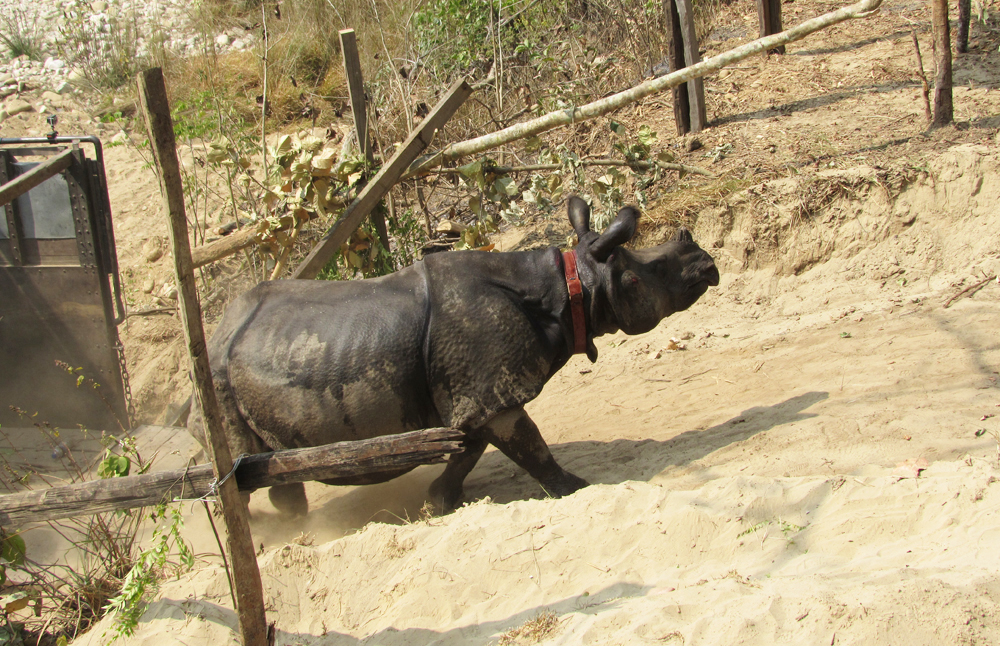 One of the rhinos heads toward his new home in Bardia National Park. Photo: Nilanga Jayasinghe.
What's changed to make life safer for translocated rhinos now?
WWF says it's heightened security measures and more involvement from the communities. Jayasinghe characterizes community involvement as "critical" to the success, and there are also more "guard posts" in Bardia today. The rhino population there has increased from 24 to 29 in the last five years.
And Jayasinghe says, "Nepal is right now the leading country in terms of demonstrating how" to stop poaching.
The five rhinos just released have all been collared and their health and safety will be tracked by biologists over the coming years.