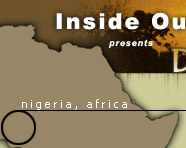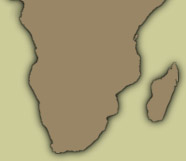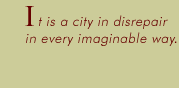 Page 1 of 6
An American's Account of Working for MSF


Babak Dehghanpisheh, MSF Administrator
recounts how he came to work with MSF and his role in Nigeria.

When the words "humanitarian work" and "Africa" appear in the same sentence, many Americans think of Sally Struthers, holding on to an emaciated child in a desperate plea for cash on late night TV.

The reality of humanitarian work is a mixed bag. At times, it is the refugee tents and starving children that are CNN'd into millions of homes. But it also involves much more mundane work, like office administration and logistical support.


I recently worked as a financial controller for Medecins Sans Frontieres in Lagos, Nigeria, which firmly placed me in the latter category of humanitarian work. Ten years ago, as a student at Arizona State University, I would never have imagined myself working in Africa at all. In fact, the only tenuous connection I can remember between Arizona and Nigeria from those days was a sign posted at Phoenix Sky Harbor Airport which warned, "The Murtala Mohammed Airport in Lagos, Nigeria does not administer effective security measures." Having visited the airport several times in the course of the past year, I would say the sign got it right.

I first visited Africa after finishing graduate school in 1997. I had earned a Bachelor's degree in Business and went on to study for a Master's in Mass Communication. Africa had always seemed the most rugged and exotic place to be. This impression was probably fueled a lot more by Tarzan novels and Hollywood than by reality.

But I was sucked in. I spent the next two years in Africa- working for an import/export company, writing for various newspapers and magazines, and having some of the most unforgettable experiences of my life. Throughout these two years in Africa, there was one group of people that I came across again and again- Medecins Sans Frontieres. I would find myself in the most remote villages in Africa and MSF was there. So after doing a bit of research about the organization, I decided to join.