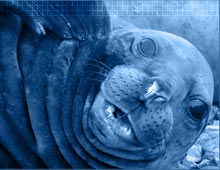 - Music/Art for grades 3-5

In this lesson students will listen to Maxwell Davies' Antarctic Symphony and create a class collage. Audio of the symphony and background information are available at the website www.maxopus.com/works/symph_8.htm#comp

Learning Objectives: Students will be able to create artwork that expresses emotion. Students will listen to music to enhance their understanding of aesthetic elements in the landscape of Antarctica.

Materials:

Classroom computer with speakers to play symphony
Drawing paper
Pencils, markers, colored pencils, etc.
Large piece of butcher paper
Glue


1. Explain to students how Maxwell Davies traveled to Antarctica in order to compose his Antarctic Symphony (Symphony No. 8). You can play the audio of the Davies explaining the composition by clicking on the "Composer's Spoken Introduction" button or you can read the written version from the website. In the introduction, Davies explains how the sounds of ice-breaks and avalanches inspired the symphony. It was first performed in London in 2001

2. Pass out sheets of paper and writing/drawing utensils.

3. Scroll to the "Sound Sample Section" of the Web site and listen to the Antarctic Symphony. Ask students to free draw and/or write on the paper as they listen to the symphony. The symphony is 40 minutes long so you may only be able to play an excerpt.

4. Create a class Antarctic Symphony collage by cutting up the words and images students created while listening to the symphony and pasting them onto a large piece of paper.


Learning Log Entry
Ask students to write about how Maxwell Davies' interprets the sounds of Antarctica through music. Discuss how he incorporated a serious environment problem like global warming into his symphony.