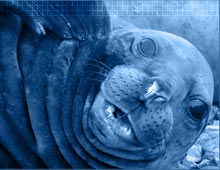 | | |
| --- | --- |
| | |
| Dan Grossman talking to students at the Williams Middle School in Chelsea about his trip to Antarctica | |

Take a classroom on a virtual expedition to Antarctica with the WBUR Antarctica teacher guides.

Lesson plans have been created for students in grades 3-5 and 6-8 that provide students with background knowledge to enhance their understanding of Dan Grossman's Antarctic adventure. We suggest having each student keep a journal, referred to as the Antarctica Learning Log, to serve as an organizing tool for students' learning throughout the expedition. We hope you and your students will enjoy this journey as you learn about the wonders of Antarctica.

While Dan Grossman was in Antarctica, students had the opportunity to send him questions about climatology, exploration, wildlife, or anything Antarctica related. We have posted a number of Dan's answers on the Student Questions page.

Please help us improve the WBUR Antarctica website.
WBUR plans on producing more education projects similar to the Antarctica website. Please take a minute to tell us what you think by taking the WBUR Antarctica education survey.



Many websites will be useful to teachers as they lead their classes on the virtual journey. Please see our list of bookmarks for relevant websites.