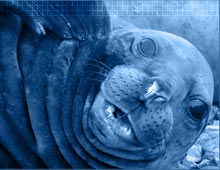 - Science for grades 6-8

The purpose of this activity is for students to learn about the effects of global warming in Antarctica.


1. Ask students to take the global warming quiz found on this site: www.defra.gov.uk/environment/climatechange/schools/12-16/quiz/


2.. Divide the class into small groups to research the impact of global warming in Antarctica. After students have completed their research, ask them to create an informational brochure on the topic of global warming in Antarctica. Ask students to answer these questions during their research:

What evidence is there that global warming is actually occurring?
What do scientists believe to be the cause of global warming?
What effect might global warming have on Antarctica and its inhabitants?


3. Encourage students to use a variety of sources to complete their research. The following is a list of possible Internet resources.
Teacher Note: Students could extend this activity by passing out their brochures to the school and community on Earth Day.