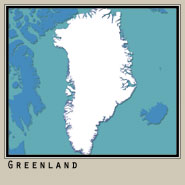 Daniel Grossman's expedition to Greenland and Iceland is over and the environmental reporter is eager to share what he saw and heard. Check out the trip's website, produced in partnership with WBUR in Boston, and see musk ox, listen to a sled-dog trip and watch a video interview about an ocean voyage in a Viking-style ship, among many other sights and sounds.

The expedition included a flight to the center of Greenland's ice sheet, where European researchers struck bottom after seven years of drilling; a visit to an Inuit village, where Grossman interviewed a 75-year-old Inuit hunter; an overnight at the headquarters of one of the worldıs strangest police forces, where he took sled dog trip; a tour of one of the worldıs most northerly ecological research bases and a lesson on fish bones at an Viking archeological dig.

The website includes hundreds of photos, interviews with a more than a dozen scientists who study the climate, wildlife and history of Greenland and Iceland; and dispatches about Grossman's experiences traveling in Greenland's backcountry. Poke around the site and discover how scientists are learning about Earth's climate future by studying its past, what scientists believe could happen to Northeastern Greenland's high Arctic habitat as Earth continues to warm up, and how Walt Disney misled generations of people about the strange habits of the lemming.