Who won the Pequot War?
» Listen

Four hundred years ago the Mashantucket Pequots were part of a mighty tribe of 6,000 members who dominated what is today southeastern Connecticut, until smallpox and war decimated them. By 1760 there were 140 Pequots left; the 1910 census counted just 66 on what remained of the Mashantucket reservation. Eventually, most of the tribe's few descendents drifted away, and by 1972 there was just one person left, Elizabeth George. When she died the following year, there was nobody.
The Mashantucket Pequot Museum tells the story of the tribe's resurrection, of how Skip Hayward, one of Elizabeth George's grandchildren, encouraged his far-flung cousins to return to the reservation and start new lives as an Indian tribe 30 years ago. Charlene Jones is a great grand-daughter of Elizabeth George and now a tribal council member.
It was Hayward who led the scrappy descendants of Ms. George to a successful land claim against the state of Connecticut for federal recognition as a sovereign Indian nation, then to a bingo hall, and eventually to a casino that made the Mashantucket Pequots the richest tribe in the country.
So again, who won the Pequot war?
A Debate about Tribal Legitimacy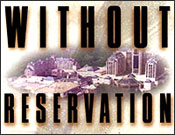 The Making of the America's most powerful Indian tribe, and the World's Largest Casino - by Jeff Benedict.
It's a remarkable story, but it's a story that Jeff Benedict, the state's leading casino opponent, says must be re-examined. In his book, "Without Reservation," Benedict alleges the current Mashantucket Pequots are not a real tribe, and should not have been recognized by Congress. His research of local census and genealogy records lead to his most stunning charge: that Elizabeth George, the tenacious protector of the Pequot's historic legacy, was not Pequot at all. Benedict claims her lineage leads to the Narragansetts of Rhode Island, not to the Connecticut Pequots. Benedict says this is an important point because these days federal recognition leads to enormous political power and wealth. "It ought to be reserved for tribes who deserve it," he says.
Not surprisingly the Mashantucket Pequots vehemently dismiss Benedict's charge. "A pile of crap," is how Skip Hayward characterized it to the CBS program 60 Minutes. The current Tribal Chairman, Michael Thomas, calls Benedict's work anti-Indian and "sensationalist." And Tom Tureen, the attorney who guided the Pequots from near-extinction to the holy grail of federal recognition, says Benedict is simply wrong because his research was incomplete. Tureen says Benedict traces the mother's side of the family to the Narragansett's, but ignores the father's side of the family which is linked to the Mashantucket Pequots.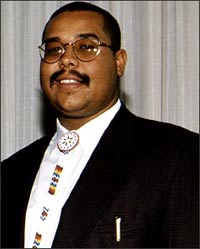 Mike Thomas, current tribal chairman of the Mashantucket Pequots. (Photo: Foxwoods)
"It's kind of genealogy 101," says Tureen.
For his part, Jeff Benedict says the father's link to the Pequots is debatable and tenuous at best.
The debate about blood is no small matter because as much as this is a story about Native American rights, money, and politics, it's also about race; how American society defines race and how it responds to its history of racial injustice. That being said, however, the Mashantucket Pequots say Indian blood - or how much Indian blood - is not the issue. Tribal spokesman Cedric Woods argues that the federal government never signed treaties with races of people; they singed treaties with polities that exercise jurisdiction over certain territories.
"And when you think about it," says Woods, "how much American blood do you have?" In fact, many tribes require members to have a certain percentage of Indian blood, known as a blood quantum. But today, the Pequot tribe does not require its members to have any specific amount of Pequot blood, though they must demonstrate lineal descent from the 1910 tribal census. But it raises the question: at what point do centuries of ethnic mixing mean that Indians stop being Indians?

The Bureau of Indian Affairs is the government department charged with determining the legitimacy of tribal claims. The bureau also looks out for Indian interests, and here critics say the agency has a built-in conflict of interest. On one hand, they say, the BIA determines which tribes are legitimate, on the other, they coach the tribes how to have their legitimacy recognized.

More:
» Bureau of Indian Affairs

Jeff Benedict says that even if he were to concede the argument about genealogy, that would not make the Pequots a legitimate tribe. The most glaring problem, he contends, is that the tribe failed to satisfy a central requirement of the federal recognition process. Specifically, it did not demonstrate that it had existed as a cohesive entity from its first point of contact with the Europeans to the present. "They had a reservation with zero people living on it," says Benedict. "I think that's where there claim breaks down the most."
Most tribes seeking federal recognition go through the Bureau of Indian Affairs - with strict requirements about genealogy and tribal continuity. But a few tribes, including this one, took a different route, and won recognition from Congress. In 1983, before Indian gambling was even on the map, Connecticut and Congress wanted to resolve the tribe's land-claim against local property owners. So Congress unanimously passed a law to settle the claim and recognize the Pequots. Benedict says lawmakers overlooked questions about the tribe's legitimacy and should investigate them now. Tribal lawyer Tom Tureen disagrees, and says the tribe was splintered and scattered due to brutal, past policies, and that Congress was right to help it reassemble - even if that provided the tribe with a chance to become rich and powerful.
"If tribes had been dealt with fairly [and] if the law had been obeyed," argues Tureen, "tribes would be rich and powerful."
The debate over the tribe's legitimacy has only hardened the attitudes of its opponents. Local residents, like Mack Turner, a carpenter and local selectman from North Stonington, lives just a few miles from the Foxwoods Casino in the middle of North Stonington, where he still keeps sheep. Mack has seen his quiet community irrevocably altered since the opening of the Foxwoods casino more than 10 years ago; he is outraged that a group of people with a claim of fractional Indian heritage, who had never lived together as a tribe, are accorded the rights and privileges of a sovereign entity. "To suggest that these individuals," complains Turner, "and some very distant relatives have a government to government relationship with the federal government that supercedes my rights is maddening."
» Next: The Power of Money