Reporter's Notebook
Thursday, March 10, 2005
Today went well. Sarah Nuttall, researcher at the Wits Institute of Social and Economic Research was great. She told me the whole story of Phaswane Mpe (author of Welcome to Our Hillbrow, another "kwaito generation" novel) being sick and deciding to leave his degree program in order to start studying to be a traditional healer. The very weekend he was to begin his training he attended a funeral. At one point, he got up, went to the bathroom, and died.
She also talked about K. Sello Duiker (author of 13 Cents and The Quiet Violence of Dreams), the shooting star of kwaito fiction who died just a month later. I read that he committed suicide after going off his anti-depressants, believing that they inhibited his creativity. It's ironic because kwaito grew, in part, out of an explosive desire to party, to finally enjoy life after years and years of oppression.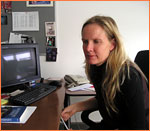 Sarah Nuttall

"We've been talking about joy and the pleasure of being young in this city at the moment," Sarah said to me after a while, "But you have to understand, in fact what's so intricate and fascinating is it's never far from the question of death. And I think that's the history of this country. There are bodies underneath the city. I think that the story of the city, this city, is always going to be the story, at some level, of murder and of dying. But that doesn't mean, and I think many commentators miss this, that there isn't a great capacity for life and Phaswane certainly was somebody who lived life with a special kind of light."

Later in the afternoon, I talked to Unathi Nkayi, a DJ at YFM which is the big, local hip-hop and Kwaito station here. She's an up-and-coming kwaito performer herself. South African urban media culture is nothing if not synergistic. YFM's DJ's aren't just DJ's, they're performers, record producers, label owners, nightclub DJ's, TV hosts. The station itself has branched out into publishing, advertising production, new media and, of course, aggressive merchandising. It's rumored that Mzekezeke, the masked trouble-maker of kwaito nation, is actually a YFM DJ. In any event, his voice was first heard as a recurring character on a YFM program. Probably the most famous kwaito star in the country, Zola, has his own reality show. Which is a full circle from where his career began, playing the role of a thug on the controversial evening TV "soapie" Yizo Yizo. As it turns out, Yizo Yizo releases a soundtrack CD with every season, which is how Zola made it into the music world.




I only got a half hour with Unathi, but we covered a lot of ground in that time. Probably the best part was at the very beginning where I was recording as she was talking to a guy in one of the 11 official languages in South Africa. I said "What language was that?" and she said "That's his native language, Sesotho." And we talked about language for a minute and then the PR person, Dineo Mahloele, comes in and they start speaking to each other in yet another language. Again I say "What language was that?" And she says "That's HER native language. Seswana. Which is similar to the one I was speaking with him. Which is Sesotho. But here in Joburg we have such an integral culture. We can mix languages and still get a general gist of what someone's trying to say. We call it totsi taal." Totsi, I learned at one point, basically means "thug." Taal just means "language." It's a slang hybrid of all kinds of different black South African languages along with English and Afrikaans. It's the language of kwaito.

There's a little bit of everything in everything here. What I'm really getting more than anything else is that South Africa is a place of amalgamation now, moreso than ever. Yes you will see very few white faces in some Johannesburg neighborhoods and virtually none in the townships. But racially, ethnically, culturally and in terms of identity...

...gotta go. One of the people I'm staying with needs the computer.