Reporter's Notebook
Thursday, March 17, 2005
Just got back from touring Hillbrow, a section of Johannesburg proper, with Niq Mhlongo. He told about the brothel that used to be across the street from a University of Witwatersrand (or Wits) dorm. It's mentioned in Phaswane Mpe's book. Refentse's cousin is leading him through the streets of Hillbrow en route to Wits and he points to a woman hanging out outside: "If you want it, he says wryly, you can go into this building. He points to a building at the corner of Clarendon Place and Kotze, the entrance of which is in Kotze. It is called Quirinalle." Niq told me that the Quirinalle shut down after Nelson Mandela had spoken out against it. Apparently, Mandela had heard about the brothel in a kwaito song. The power of music.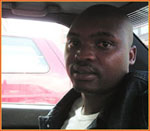 Niq and I also had a nice long chat about the new South Africa, particularly about xenophobia, black on black ethnic bigotry etc., after he read to me a section out of his book, a beautiful section in which the main character imagines that God must be white because who else would let apartheid last for so long. He wonders what God thinks of different sounding languages like Zulu and totsi taal. Obviously that's what a lot of black South Africans are speaking when they pray to Him. Does He think those languages sound aggressive or romantic? Does he understand them? It's a gorgeous passage.

Sadly, my interview with Zola was postponed. Apparently he got in late last night and overslept, then had meetings and other business to attend to and never made it over to Ghetto Ruff. I got there at 9:40 or so and left, empty-handed, at 11:00. Mpumi, the Marketing Manager said we could do it tomorrow. I pray to God (in English) that's she's right. Though I did learn that Zola is giving away one of his cars. His first car, a BMW 325. He figures his fans are the ones who gave him the money to buy it in the first place so now he's going to give it back, to thank them for supporting the first three albums. That's Zola, always making with the loaves and the fishes.

[Later]

I was going to end this entry on that note but something happened between then and now. I called Arthur's (Mafokate, aka the King of Kwaito) people again. I told them, for the millionth time, who I am and why I'm calling and they said "Oh Arthur, he's doing a show at Bloemfontein Plaza tonight."
"Tonight?" I said "What time?"
"Right now," the guy said, "It starts now and goes until 17:30."
"I'll catch up with him there," I said. So I hung up, called Peter, the cab driver who's been ferrying me around all day and told him to come get me. "I'll be there in 10 minutes," Peter said. I called Niq and said I might not be able to make his reading tonight. Like the great guy that he is he completely understood and said talking to Arthur was more important.

Twenty minutes later no Peter. I called him again to make sure he didn't think I wanted to be picked up at Bloemfontein Plaza, which I assumed was in Johannesburg, near Wits. At least, I knew that Wits was in a section of Johannesburg called Bloemfontein. Or, at least, a section of Johannesburg that sounded like "Bloemfontein."
"Two minutes," Peter said and soon he was speeding down the street to get me. "Where are you going again?" he asked as I climbed in.
"Bloemfontein Plaza," I said.
"Where is this one?" he said "In Johannesburg or in Bloemfontein?"
"Where's Bloemfontein?" I said.
"It's outside Johannesburg," he said.
"I'll call and find out," I said, and did.
"Is Bloemfontein Plaza in Johannesburg or in Bloemfontein," I asked the guy at Arthur's office who answered the phone. Same guy.
"It's in the province of Free State," he said.
"The province Free State," I repeated back, "How far's that?"
"About 300 kilometers," he said. The area I had been thinking about, the area near Johannesburg where Wits is, was called Braamfontein. American stupidity at work. Or maybe just a more individualistic Sean Cole stupidity.

I told the guy on the phone to please call Brian, Arthur's rep, and tell him that I've been trying to reschedule the interview all week and that this was going to be a big story and that Arthur was an important part of it. "Okay, sir" the guy said, patronizing me, "Okay, sir." Then I looked at Peter, sheepishly. "I'm sorry," I said "Can I pay you for your trouble?"
He hesitated but then said "Yeah okay you can pay me." I figured he'd say 10 rand or something. Which is 2 dollars. "30 rand," he said. I looked through my wallet and found no change.
"I'll give it to you when you pick me up for the reading tonight," I said.

PS: On a tour of Hillbrow with Niq, we went to a theater where a circle of actors and singers were rehearsing outside. They sang their hearts out. Ladysmith Black Mombazo type music. Ocassionally, someone would walk into the middle of the circle and stamp their feet or writhe their body around. Then a few of them started speaking, reciting lines back and forth over the harmonies. It was really gorgeous and I stood transfixed for several minutes. Occasionally, one or two of them would look over their shoulder and give me a quizzical look. A "who brought the white guy with the microphone" look. But they just kept singing, and stamping and performing.