Reporter's Notebook
Friday, March 18, 2005
I'm listening to my interview with Zola as I write this, trying to figure out what I lost. This has happened to me exactly once before, on the abstinence documentary. Every tape has two sides, of course. Everyone knows that. But sometimes you get confused. Especially when you're talking to someone like Zola who, though he's virtually unknown in the states, is incredibly famous here, and for good reason. He's enormously charismatic, has the presence of a huckster messiah. I think he could convince Earth to move closer to the sun. He speaks well and fast and occasionally a pure pearl will drop from his mouth. And that charisma and fame, though I'd never heard of Zola before two months ago, is intoxicating. In fact, it's so intoxicating that, when the interview was over, I felt compelled to follow Zola upstairs from the outdoor patio at Ghetto Ruff's recording studio. I followed him into the room where all of the albums are recorded and mixed, and where two of his musical progeny along with his producer and an engineer were all hanging out. I recorded and recorded as the whole gang of them broke into this impromptu free-style jam, rapping in both English and Zulu over a beat that the engineer had mixed together that morning.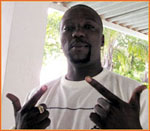 Zola was rapping freestyle with everyone else. Famous, famous Zola. And I couldn't help thinking that I was in one of the most enviable positions in youth culture South Africa. That this tape I was getting was probably of actual monetary value, let alone how priceless and fragile and unique a moment it was. And I was capturing it. And so, when my tape got to the end, and instantly turned it over and kept rolling. I even looked down through the little window of my deck at one point and saw the letter "B," and figured I was safe. But all of my tapes say "B." I stands for "Brilliant Cassette." I had turned it over a third time to side A. And I rolled over 10 minutes of Zola's interview. I only pray it wasn't one of the parts that I really, really wanted you to hear. One of the pearls that makes you look at your tape recorder to make sure it's still turning.

But I'm burying the lead. Zola gave me an African name. Let me say that again. Zola, one of the most famous men in this country, perhaps the most famous next to Nelson Mandela and Thabo Mbeki gave me, a thin, bespectacled white man from Boston, an African name.




He was explaining Zulu culture to me, that people from the same tribe are like relatives, are free to sleep at each other's houses, that if I went to his mother's house I would eat, and would eat what was put in front of me, and that if I didn't eat what was put in front of me it would be a great offense. He also said he wanted to bring the culture and language of the Zulu people to the rest of the world. He wants to teach children in the US and UK and in Europe Zulu. "That's why..." he said, and then interrupted himself.
"Have they given you an African name yet?" he said.
"What here?" I asked. (No, Sean, in Detroit. Where the hell do you think?)
"Yeah," he said.
"No," I said, "Do they usually?"
"Yeah you'll get it before you leave," he said, matter-of-factly.
"I'm leaving on Monday," I said, "They better hurry up."
"I think I'll call you..." he said and then paused, trying to think. I think an entire civilization somewhere was built and destroyed during that silence.
"I'll call you Nzululwazi," he said.
"What is it?" I said
"Nzululwazi," he said. It took three tries, I think, before I could get my tongue around the second L.
"Nzulu means deep," he said "Lwazi means knowledge."
"Thank you," I said sheepishly.
"Because you're the one that seeks," he said, "that seeks to know what is untold."
I think I would have married him at that point if he asked me to. He said the name is both Xhosa and Zulu. (Xhosa has a click at the beginning, like you're urging a horse onward.) "Mandela speaks Xhosa. I speak Zulu," he said. And then he wrote it down for me, "So you'll never forget it," he said, "But check this out." And he covered the "N" and the "Lwazi" with either hand. Leaving only "Zulu," right in the middle. My surname is Dlamini.

Of course this was after waking up early. Calling the cab driver that I've developed something of a relationship with and asking if he was still on to meet me at 9:15, which he was. We drove out to Randburg, a low slung but pretty suburb to the south which boasts the Waterfront Mall. Though its name has changed. It's called Bright Water or something now. It's basically just a dull shopping center with a grocery store in it and a couple of clothing shops. I was there to meet Sechaba "Chabi" Mogale, co-owner of Loxion Kulcha which is essentially the Fubu or Adidas of South Africa. He showed up in a red Alfa Romeo sports car. I climbed into the passengers seat and was surprised to find this veritable kid behind the mahogany steering wheel. Turns out he's 29 years old (born on June 16th, 1976 if you can believe it), 4 years my junior, running a multi-million dollar (and multi-multi million rand) company. It's the story of a lot of the leaders of the kwaito generation. Like Zola says, they were the first generation to get paid. Determining the trends according to what they, themselves, were wearing and singing and saying and doing on the street level.

Chabi is worth a story of his own. A kid who never went to university, though he tried several times to get admitted - in Johannesburg, New York and, of all places, Moscow. ("Not a lot of black people in Moscow," I said. "Yeah," he said, "I found that out when I got there.") Ultimately, he ended up selling crocheted hats on the street with a friend, hats they had designed themselves. This is when kwaito, and the culture around it was first coming up. He was hanging around Yoeville at the time, which neighbors Hillbrow, getting to know the musicians and actors and dancers who would create an entirely new youth culture on their own. Soon, he and his friend Wandi would team up with a white Jewish guy named Brian Abrahams who taught them everything they needed to know about the clothing business in order to get their hats and t-shirts in stores, and onto the bodies of people like Zola, and subsequently the people who went to Zola's shows. Loxion Kulcha is probably one of the more successful, grass-roots, black-owned businesses in the country. Certainly, it's one of the youngest. And it has nothing to do with governmentally-sponsored B.E.E. (Black Economic Empowerment initiative). It's the same story with black-owned kwaito and hip-hop record labels like Oskido's Kalawa Jazzmee, Arthur Mafokate's Triple 9 and Mdu's Wolla Music. Kwaito isn't just music genre, and it isn't just a culture, it's an economic engine, created by blacks, employing blacks, supported by blacks, all of which would have been unheard of 10 years ago.

And all of this is without having told you about the Ghetto Ruff van getting stuck in the driveway of its (as of today) former offices in Oakland Park and sitting there while the management of Bula music bitched about their having bent the gate. And it's without having told you that for a minute there it looked like the meeting with Zola was never going to happen at all. Especially when his producer, Thaso, told me that if I was waiting for Zola I "might be waiting a looooooooong time." Thaso was trying to raise Zola himself, was supposed to have been working on the album with him that day. And it's without having told you that when Zola finally arrived it was like a bolt of lightning had struck. Bounding to the top of the stairs, throwing his arms in the air in a squat and letting out the most piercing whistle I've ever heard. He clapped and shouted and gave me, I'm not kidding, a full on hug. Mr. famous whom I'd never met.

Anyway, that's my story for today. It may be the last entry I write from here. It's been incredibly fun and wonderfully hectic here but I miss my girlfriend, hugging my dog, driving my car, knowing how to get from one place to another, knowing exactly what to expect when I open the refrigerator and drinking beer that's darker than I am. Man, I've got it all, don't I. I'd better appreciate it.