Published January 10, 2011

At 2:02 p.m. on Saturday, WBUR was apparently first on Twitter to report — erroneously — that Congresswoman Gabrielle Giffords had been killed by her attacker. I tweeted this on WBUR's account:
Rep. Gabrielle Giffords has been shot and killed in Arizona. http://wbur.fm/fgOL3O
NPR News had just reported at 2:01 p.m. Eastern, on the air, that Giffords was dead. (In fact, she is still fighting for her life.)
The retweets came so fast and furiously that "WBUR" became a trending topic in Boston.
At 2:12 p.m., NPR News tweeted:
BREAKING: Rep. Giffords (D-AZ), 6 others killed by gunman in Tucson http://n.pr/fjnZW5
We now know that NPR used information from two unnamed sources who were wrong about Giffords' condition. NPR followed up with a tweet explaining that there were conflicting stories. WBUR then retweeted that update.
Later, NPR apologized on air and on the Web for "a serious and grave" error. NPR's Andy Carvin, who manages the network's social media, decided not to delete the erroneous tweet and explained his position in a comment on the Lost Remote blog:
I can imagine if I had deleted it, we'd be reading news stories and blog posts today about NPR trying to cover our tracks on Twitter.

When push comes to shove, we made a mistake in our reporting, and my tweeting of it compounded that mistake. But when you coordinate social media for a news org, you have to work under the assumption that information we've already reported publicly on other platforms is correct. If I tried to second-guess our reporting before posting any given tweet, it would be tantamount to me saying that I don't trust our own reporting, and our social media-based reporting would become paralyzed.
Those are the facts. Now for the opinions, starting with mine: I thought Andy acted appropriately, and I think we did, too. Our reporting is our reporting is our reporting, regardless of platform. And NPR's reporting is WBUR's reporting. (Likewise, NPR's error is WBUR's error.)
Now, should we delete the original, erroneous tweet? I asked this question of WBUR's Twitter followers, and the response was rapid, impassioned and divided. Consider this sampling of unedited responses (there were many more):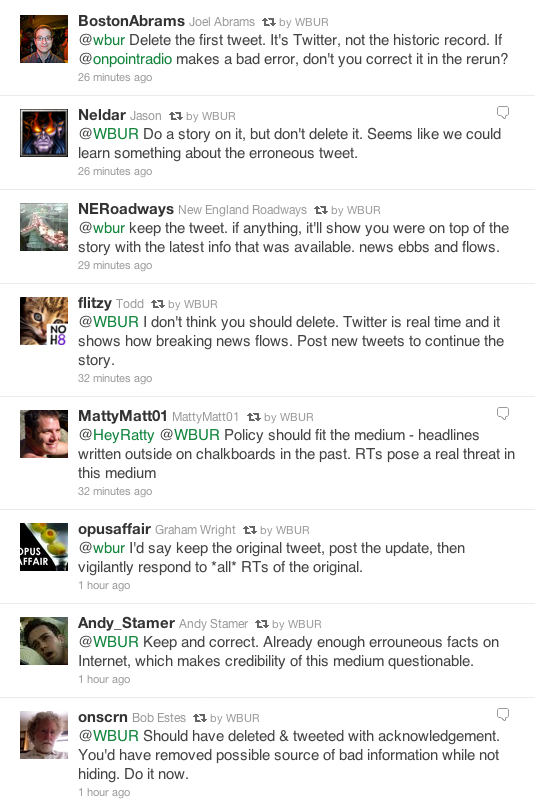 Some of our Twitter followers, such as @opusaffair, told us to perserve the erroneous tweet but be vigilant about the retweets. In other words, if someone retweets the incorrect information, reach out to that person to explain that the information was wrong.
After it was reported that Giffords was still alive, only one person retweeted our erroneous tweet, and I responded personally. In hindsight, I wish I had later responded to everyone who retweeted the erroneous news.
We have decided NOT to delete the erroneous tweet, because it serves as part of the narrative of this story. Facts can change fast when news is breaking, and that leads to errors. We need to own the error, not hide from it. But we also need to rectify the error and explain ourselves to people who trust us. Deleting the tweet would do more to harm trust than perserving it would do to harm truth.
What do you think?