AMC's Emmy-award winning drama, Mad Men, is consistently regarded as one of the most detail-oriented programs on television. From the decor of the homes and offices to the fashion trends, not to mention the actual historical events that occurred in America throughout the '50s and '60s, Mad Men never skimps on any facet of historical detail.
Applying such fidelity to an era to the art of cooking and entertaining (think: the perfect roasts Betty Draper serves up, and all those martinis!), cookbook writer Judy Gelman and nonfiction author Peter Zheutlin combined their skills to craft The Unofficial Mad Men Cookbook, on shelves now.
Intrigued, PRK contacted Gelman and Zheutlin to get the story behind their creative endeavor.
Judy, you have a history as a cookbook writer. Peter, you have authored/co-authored three non-fiction book. How did you merge your separate skills to create this book?
We really have complementary skills. Judy has a solid background in culinary research and recipe writing and testing – she dug deep into 1960s cookbooks, magazines and advertising to get historical context and authentic recipes for the period. She wrote the recipes and she's the cook in this partnership. Peter wrote the introductions to each recipe, setting each within its context in Mad Men and providing general historic context as well. And, while Judy cooked up a storm, Peter cleaned the kitchen repeatedly.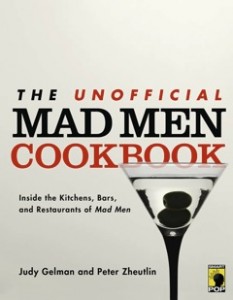 Can you tell us more about the actual writing process? What exactly did you do to compose such an extensive text?
First, we watched every episode of Mad Men, taking careful notes of each food or drink that appeared or was mentioned. We'd even peer into Betty Draper's fridge to see what was on the shelves, often freeze-framing so we could identify foods that might have been on screen for a split second. Then we began identifying those that played a significant role in the show, such as Don's Old Fashioned, or were emblematic to the time, such as Turkey Tetrazzini, or simply those that piqued our curiosity such as pineapple upside-down cake.
Sometimes there were restaurant scenes where you never see what the characters are eating, but we wanted to know what they might have been served. For example, Don and a date have dinner at the elegant Barbetta but we don't know what they order. So we contacted the restaurant, found out what was on the menu in the early 1960s and asked the owner what a couple having a romantic dinner might have ordered. Or we'd see something and not know what it was. For example, on a trip to L.A. Pete Campbell sips an unidentified cocktail at the Beverly Hills Hotel. With the help of the hotel staff, and based on the color of the cocktail, we went back in time and discovered it was a Royal Hawaiian. We asked the current bartender at P.J. Clarke's which drinks the Sterling-Cooper crowd might have been quaffing at the bar in their time. We researched the origins of each dish we wanted to include: some, such as punch and gazpacho, go back centuries. Many of the restaurants and bars depicted in Mad Men shared with us their recipes for dishes and drinks featured in the show, giving us the 1960s version if the recipe had evolved. For example, The Grand Central Oyster Bar's Oysters Rockefeller are completely different in 2011 than they were in 1962, something we learned when we visited The Oyster Bar last March. Other recipes were adapted from cookbooks of the era and from magazine articles and period advertisements for products such as Bacardi rum. Every recipe was then tested and retested and tinkered with as needed. The next step was to introduce each recipe, providing context for each dish or drink.
You have a recipe for Old Fashioneds in the book – a drink that is, essentially, the epitome of Mad Men. A friend of mine once asked if I thought 'Don Draper would do to Old Fashioneds what Carrie Bradshaw (of Sex in the City) did to Cosmos?' (i.e., spawn a resurgence). What are your thoughts on that in regards to Old Fashioneds, as well as the other recipes in the book? Do you think Mad Men and your cookbook will succeed in bringing back interest in historic foods?
We certainly hope so, because one thing we learned that may surprise many people is that the 1960s was not just a meat and potatoes time, with Jello-O mold for dessert. Americans were becoming more sophisticated about food and were experimenting with international cuisines. There was increasing interest in French cuisine, thanks in large part to Julia Child's 1961 book Mastering the Art of French Cooking. President and Mrs. Kennedy loved French food – they hired a French chef to be their White House chef – and, since people admired the Kennedys' elegance and savoir- faire, they naturally wanted to eat like them, too. Bar tenders are probably hearing "make it an Old Fashioned" more than they used to, but an Old Fashioned lacks the sweetness that has made the Cosmo a more popular cocktail.
Mad Men has already kindled a comeback in retro fashions, and we think it has also created interest in '60s food among viewers; the creators of Mad Men were just as meticulous about the foods they chose to appear in the show as they were about every other period detail. Knowing the history of these foods and the context in which they appear in the show enhances the Mad Men experience and may kindle renewed interest in the food fashions of the times. You don't see apple pie served with cheese on top anymore, for example, but its worthy of rediscovery. Canapés, which were popular in the '60s, have been replaced by crostini and bruschetta, but the canapés in the book are actually lighter and more delicate.
Obviously, die-hard fans of the show will 'eat this up.' I can also see people who lived during the '50s and '60s enjoying this as well. But do you think that the book contains recipes that can stand on their own, without the love for the show or the feeling of nostalgia the dishes may evoke? Are the recipes timelessness enough to last?
Absolutely. We have our favorites, of course, as will readers, but we didn't include dishes simply for their nostalgic value. The book harkens back to mid-20th century America, and there are definitely foods that will take [those] people old enough to remember the early 1960s back in time. (Note there is not a recipe for hash brownies.) But ultimately this is a cookbook, and we can vouch for each dish or cocktail on its own merits. Many of the recipes are timeless and still popular, such roast chicken and Caesar salad. Beef Wellington and Fettucine Alfredo also stand the test of time as do many of the others. Who doesn't love a classic wedge salad with Russian dressing? Obviously, the book will have more appeal to fans of Mad Men, but you don't have to love [the show] to love a good Whiskey Sour or a perfectly prepared rib-eye in the pan.
Often, when people think of food of the 1950s and '60s, they think of lots of butter, overcooked meats, canned products, etc.  Was it important to you that the recipes you chose contradict this standard perception?
Some do and some don't contradict that perception. As Roger Sterling, one of Mad Men's main characters says of Chicken Kiev, when you cut into it, "the butter squirts everywhere," and the recipe given to us by New York's Russian Tea Room calls for a lot of butter. But there are also recipes in the book for some of the lightest, most delicate salads you can imagine, such as Sardi's Hearts of Palm Salad. Jackie Kennedy's Avocado and Crabmeat Mimosa also plays against type. Contrary to what people might think, we didn't have to work hard to find healthful recipes from the period. The characters in Mad Men eat salads and seafood and low-calorie appetizers, though they also indulge, as modern diners do, in foods that aren't good for them. Many cookbooks from the era include information about good nutrition and diet that would stand up today.
How do you view our current food culture compared to that of the Mad Men era? Are there elements of the culture then that you think should still be present today?
We have so many more choices of ingredients and food today. And people are far more conscious of what they eat and where their food comes from than they were back then. And, given how much people smoked back then, it's a wonder they could taste their food at all. One aspect of the fine dining culture you see in Mad Men is that restaurants tended to be quieter, the atmosphere a little more refined. Places like that still exist, but they seem to be fewer and farther between. People were better mannered in such settings. At least you could go to a restaurant and not have to listen to the people at the next table talking on their cell phones. That struck us in a scene set at the now defunct Forum of the Twelve Caesars when Peggy Olson's fiancé and her family are waiting in vain for Peggy who is stuck at the office. She calls the restaurant and a waiter brings a phone, cord attached, to the table. Another major change in the food culture is that entertaining in the home for all occasions was much more prevalent, perhaps because fewer women were working outside the home and were expected to play the role of hostess-in-chief. So many of the cookbooks in the 1960s that we used are devoted to sections on entertaining and hostessing. You just don't see this in today's cookbooks. We also dine out so much more today; even in this tough economy restaurants are packed. But there is a warmth to home entertaining that you don't get at a restaurant.
My understanding is you've been watching Mad Men since 'Day One.' How long after you began watching the show did you decide to take up this project?
Judy was glued to Mad Men as it aired from the beginning. Peter was a late adopter and watched the series on DVD. As the fourth season was coming to a close, the idea for a cookbook based on the food and drink in Mad Men struck Judy. Her previous cookbooks all revolved around pairing food and literature so this was a natural extension. Her next idea may be a cookbook based on the video game "Call of Duty."
Each television show creates its own unique world. Do you have any other favorite shows, and do you think a similar cookbook project could work for them?
We've talked about that and have an idea, but [we] don't want to give it away! Some of Judy's favorite shows, such as Dexter and Homeland, simply don't lend themselves to cookbooks. For a concept like this, you'd probably look for a show that is either set in a period with an interesting culinary history, or one where food is an important element in establishing mood, scene, plot or all of those. That said, the idea we have in mind meets none of those criteria!
Give us a sense of your ideal Mad Men dinner date: what are your favorite dishes from the book, and which character from the show would you most want to spend an evening with?
Our marriage survived working on a book together, but it may not survive the last part of that question. For cocktails, Peter has a sweet spot for fruity tropical cocktails so the Mai Tai and Blue Hawaii are favorites, as is the Canadian Clubhouse Punch. Judy is especially fond of The Stork Club Cocktail and the Royal Hawaiian. With the cocktails, we'd serve a few of our favorite canapés, those with mushroom or chutney, and Oysters Rockefeller. We are both fond of Sardi's Hearts of Palm Salad, Keens' Steakhouse Caesar Salad…all of the salads, really. Judy would choose the Sole Amandine Waldorf Style or the Shrimp in Snail Butter from Lutece, a preeminent French restaurant of the time. Peter is a fan of the Beef Wellington. For dessert, the pineapple upside-down cake, made in a cast iron skillet, is amazing, as is Barbetta's Pears Baked in Red Wine alla Piemontese.
As for which character we'd want to spend an evening with, well, that's where the trouble might begin. Peter would say Joan Holloway, played by actress Christina Hendricks, for obvious reasons. But for laughs with a dash of cynicism, it would be the man-child Roger Sterling. Peter often jokes that Judy is more interested in the glazed ham in Betty Draper's refrigerator than she is in John Hamm, the incredibly handsome actor who plays Don Draper. The proof? She'd choose to have dinner, or a Brandy Alexander, with Peggy Olson because she's a tenacious trailblazer up against incredible male chauvinism. Her confidence grows every season and she's probably least likely to cook a meal!
For more information about The Unofficial Mad Men Cookbook, and to order a copy, visit the official website.