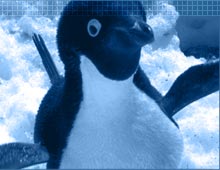 Petrels Research
View images of southern giant petrels being tagged.
Attaching Transmitters
Read Dan's journal.







by Donna Patterson

Nest 1 Male is an exceptionally calm and good-natured male giant petrel and a delight to have in our study area. He hatched in 1994 on Norsel Point from Nest 31, a location overlooking Loudwater Cove. We banded him at that time on his right leg. His parents remained at this nest from the beginning of our nest-specific studies in 1993 until 1998. We aren't sure what transpired between the pair, but they took the 1999 breeding season off and the Mrs. was subsequently seen at Norsel Point Nest 16 during the 2000 season with a new mate - who had previously been with a female who was noted to be 'angry'. Who could blame him for swapping to this much kinder female?

Nest 1 Male first bred on Humble Island as a 6-year old in 2000 with a slightly older female from nearby Stepping Stones Island. She is a, broody, talkative female with a knack for making one feel welcome at her nest site. (Broody birds are anxious to tuck their chicks-and sometimes our team member's hands--under their protective feathers). The two Nest 1 birds are in what I sometimes call a 'starter nest' - a location without a view, close to penguin colonies and in close proximity to a few giant petrel neighbors. Not a bad spot for a very young couple. This is their third season breeding together and despite an unfortunate egg loss last year due to a flooded nest, they have remained a loyal and dependable pair. The male now wearing our satellite transmitter is noteworthy for being incredibly mellow at a young age (many birds are high-strung when begin their breeding career). We are fortunate to have young couples this calm on Humble as this gives us an opportunity to compare their chick-rearing strategies with older, more experienced birds.

Read about the bird's journey below.


The Nest 1 Male received his transmitter on January 14th. During his first twelve days, he made several trips. The first trip, the day after he got the transmitter, was to the nearby Wauwermans Islands, approximately 12 miles from his nest. Most likely, he was in search of meat, perhaps some of the nearby gentoo penguins.

His next trip, on the 18th, ranged slightly north and east of Anvers Island into the Gerlache Strait where he was probably scavenging carrion or stalking penguins. During this same trip he visited an area southwest of Anvers Island where upwelling makes it rich in sea life.

His third trip, which began the 21st, started with a visit to the south of Renaud Island, approximately 110 miles from home. Then he entered the Grandidier Channel which runs between Renaud Island and the Antarctic Peninsula. He was probably scavenging or looking to round out his foraging trip with a meal of fresh penguins.

His final trip, which began on the 22nd was the longest voyage of our birds so far this season. He initially traveled south along the peninsula (approximately 225 miles offshore) and reached the Alexander Island area two days later. He then moved to the edge of the sea ice in that region. He spent two days on the ice edge where he was probably feasting on krill, fish, squid or perhaps "encouraging" other birds to give up their hard-earned meals (giant petrels will sometimes attempt to get a bird to disgorge its stomach contents through harassment). Although they are primarily scavengers, giant petrels will also prey on other bird species. He returned home on the 27th.