Published December 13, 2010
In a world where the Big Ten conference can have 12 schools, and the Big 12 has 10 schools, why can't New England have five states?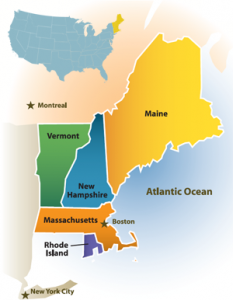 Discover New England, the "official" tourism bureau for New England, no longer lists Connecticut. The erstwhile state has been deleted from the bureau's map of the region, which does include New York City and Montreal.
The Associated Press reports the state failed to pay its annual dues:
Discover New England … will no longer promote Connecticut and its attractions. The move comes after Connecticut eliminated its budget for tourism marketing, and was unable to come up with the annual $100,000 fee.
The story gets more complicated, though. According to CTvisit.com, the website for the state's Commission on Culture and Tourism, Connecticut still exists and is "closer than you think."
I've got calls out.
As an ode to Connecticut, we of the newsroom have compiled a short list of what Connecticut gave us:
Roger Sherman, co-author, Constitution, Declaration of Independence
Linda McMahon, executive, World Wrestling Entertainment
UConn women's basketball team, poised to break a consecutive win record
Foxwoods Resort Casino
George W. Bush
Benedict Arnold
John Mayer
WBUR continues to observe Connecticut as one of six New England states.