Published May 23, 2011
As the federal corruption trial of former House Speaker Sal DiMasi entered its third week today, WBUR's David Boeri recaps the case so far, with the help of sketches by Margaret Small.
Background: In 2006 and 2007, a Canadian software company called Cognos won two contracts from the state worth $17.5 million. According to federal prosecutors, the contracts came off as the result of a scheme whereby Speaker DiMasi "found a way to cash in on that office."
As "kickbacks" for steering the contracts to Cognos, the government alleges, DiMasi and his associates and close friends Richard McDonough and Richard Vitale received hundreds of thousands of dollars from software salesman Joe Lally.
Lally, who won millions of dollars of sales commissions on the contracts, has plead guilty to the charges of conspiracy and honest services mail fraud. As a condition of his plea deal, he has agreed to testify against his former co-defendants. In return for his testimony, Lally will receive a recommendation for a reduced prison sentence and the government allowed him to keep his home and other assets, which would have been otherwise forfeited.
The maximum sentence on all the charges against the defendants amounts to 165 years. DiMasi, McDonough and Vitale all assert their innocence.
____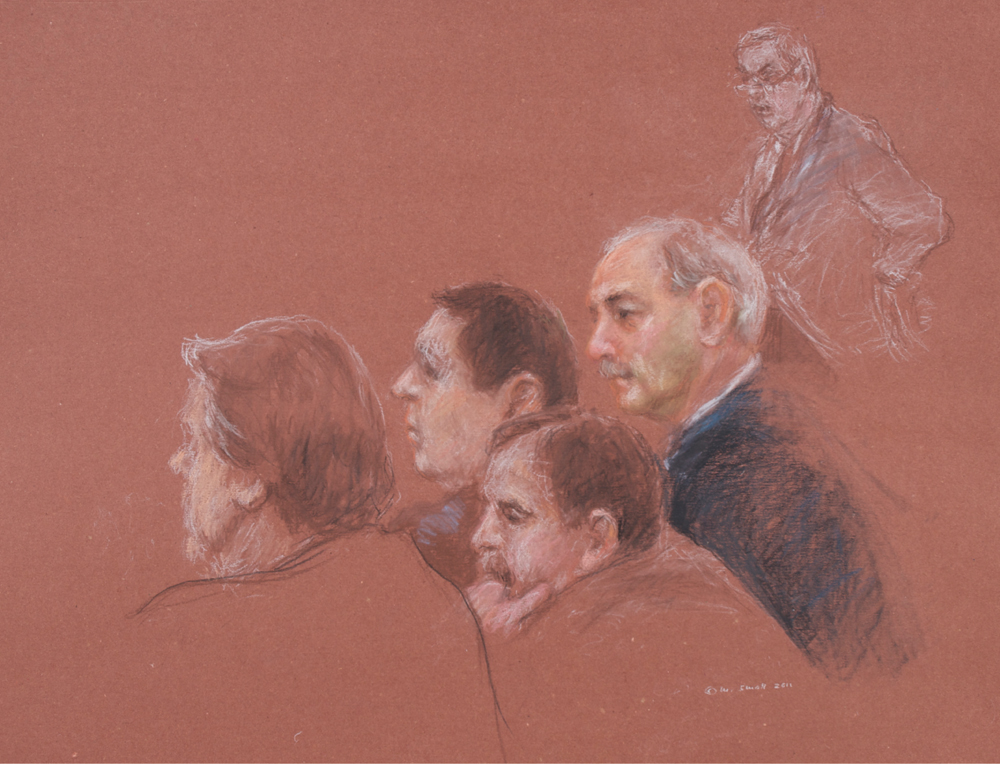 The defense table
From left to right: defendant Richard — everyone calls him "Dickie" — McDonough, a well-known lobbyist on Beacon Hill and close friend of DiMasi; William Cintolo, DiMasi's attorney; Tom Drechsler, McDonough's attorney; DiMasi, most often referred to as "Sal" or "The Speaker"; and Tom Kiley, co-counsel for DiMasi.
As with all images, click to enlarge.
____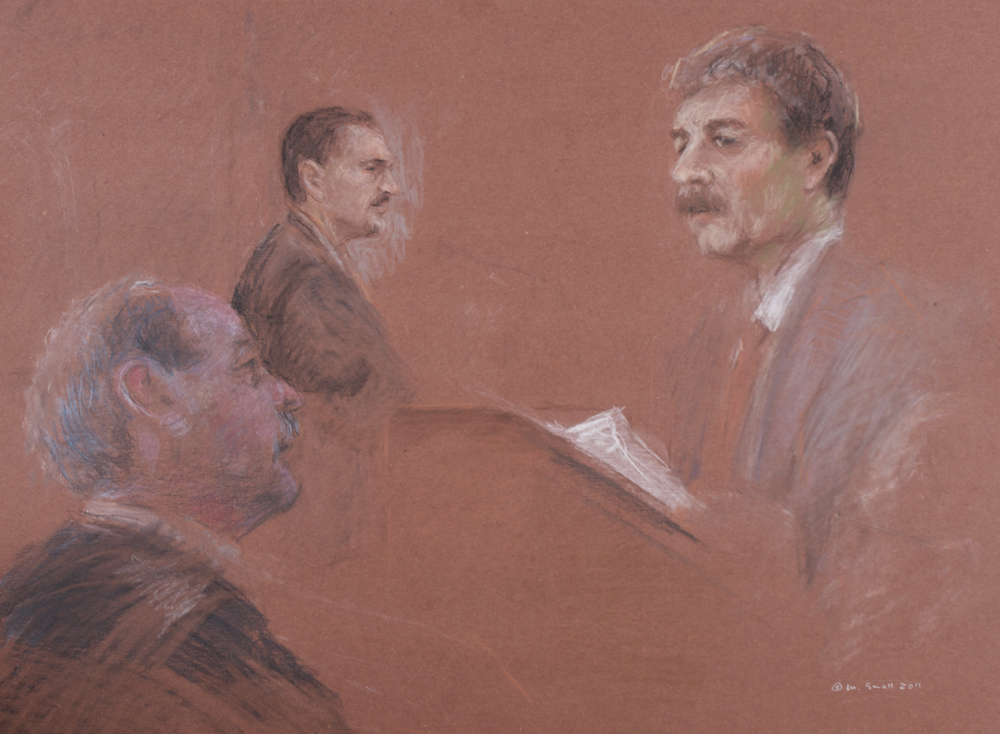 "Did you ever get any other clients referred to you by Mr. DiMasi for whom you did no work?"
[From the defense table] "Objection!"
Steven Topazio, center, testifies under questioning by federal prosecutor Theodore Merritt, while DiMasi watches from the lower left.
A law associate of DiMasi, Topazio was paid $5,000 a month by Cognos on a contract for which he was never asked to do any work. He testified that he paid $4,000 a month to DiMasi — $65,000 in all — thinking that was DiMasi's share for referring the client. The government says the money was a series of kickbacks from Lally disguised as consulting fees to Topazio.

____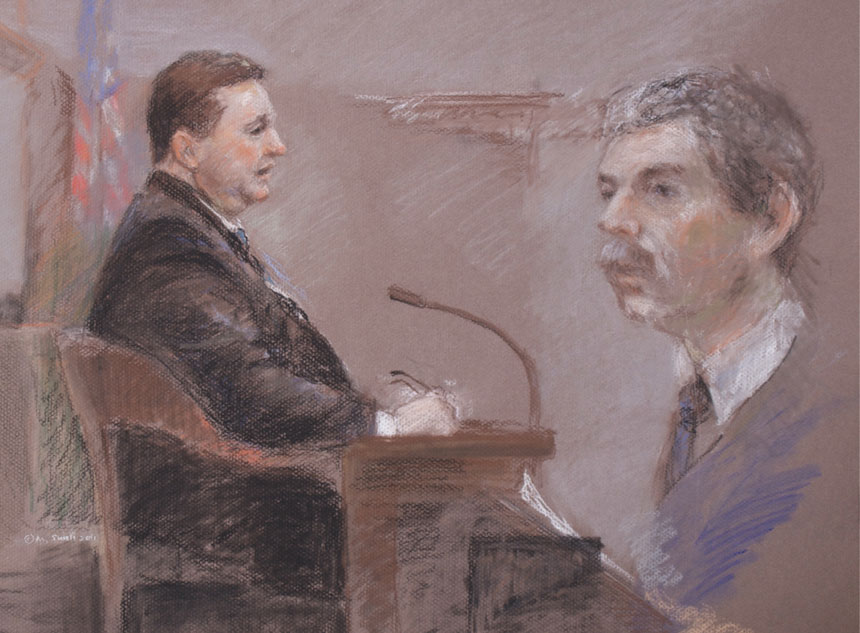 "The truth is that I conspired with these three gentlemen to commit a crime. That's the truth."
Former Cognos salesman Lally, left, takes the stand as the government's cooperating witness. At right is federal prosecutor Merritt. During testimony, Lally also said:
"[DiMasi] said, 'Let's make as much hay as possible,' so that's what I did."
____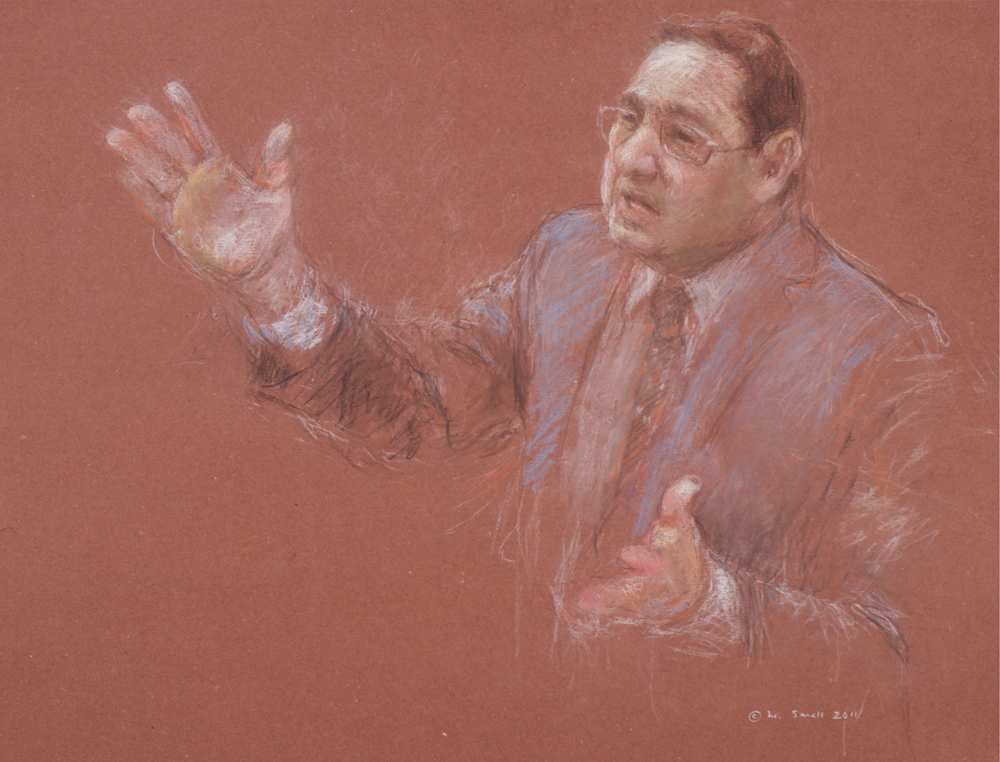 "Do you know what a lie is?"
DiMasi's defense attorney, Cintolo, right, asked this of the government's cooperating witness, Lally, the former salesman who plead guilty.
Encapsulating the defense's attempt to discredit Lally, and with the accent of his hometown of Revere, Cintolo told jurors that Lally "is a lie-ah, a cheat, a manipu-latah and a quintessential name drop-pah."
____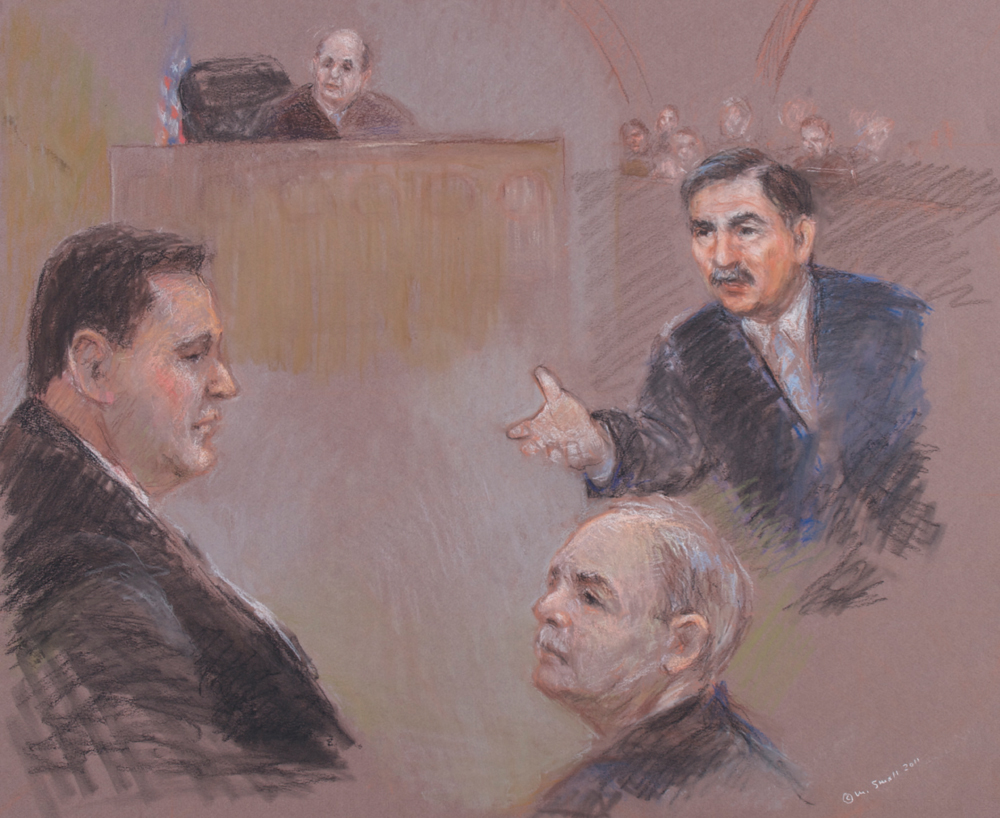 "Of all the people in this courtroom, you're the only one who plead guilty to being a schemer, isn't that right?"
At right, Judge Mark Wolf presides as Lally is on the stand. DiMasi looks on at his main accuser while Drechsler tries to break Lally's credibility.
Lally, who hung tough, often went beyond answering the questions, as when he added, "I understand there's offers out there for all three of them" (suggesting that DiMasi and the others could have taken plea deals as well).
____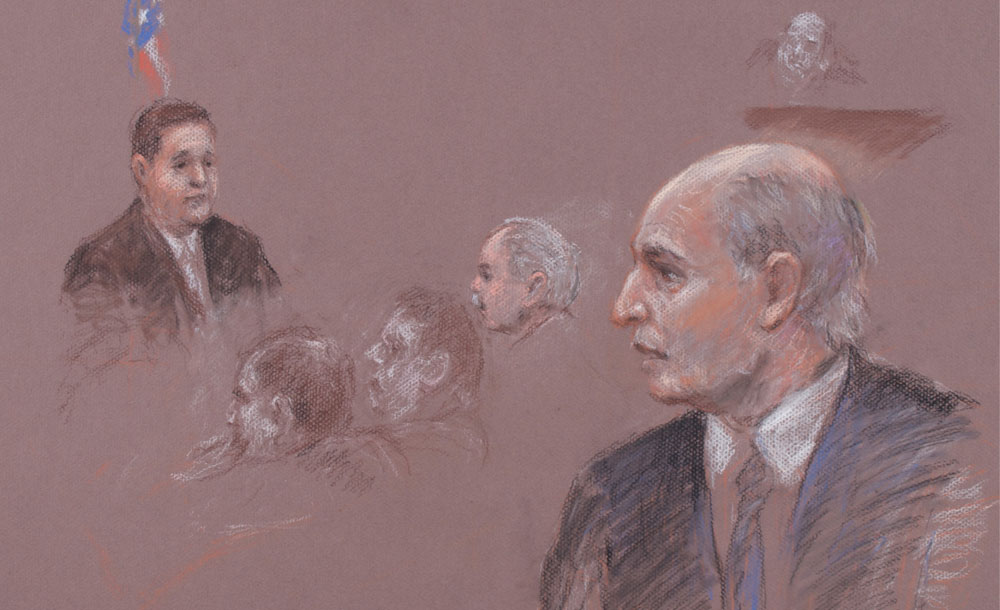 "It is ironic that my client is charged with bribery … [while Lally] is a witness whose testimony was purchased by the government."
Defense attorney Marty Weinberg, lower right, cross-examines Lally. Weinberg represents defendant Vitale, the longtime accountant and close friend of DiMasi.
Also in the sketch are the three co-defendants, and Judge Wolf.
____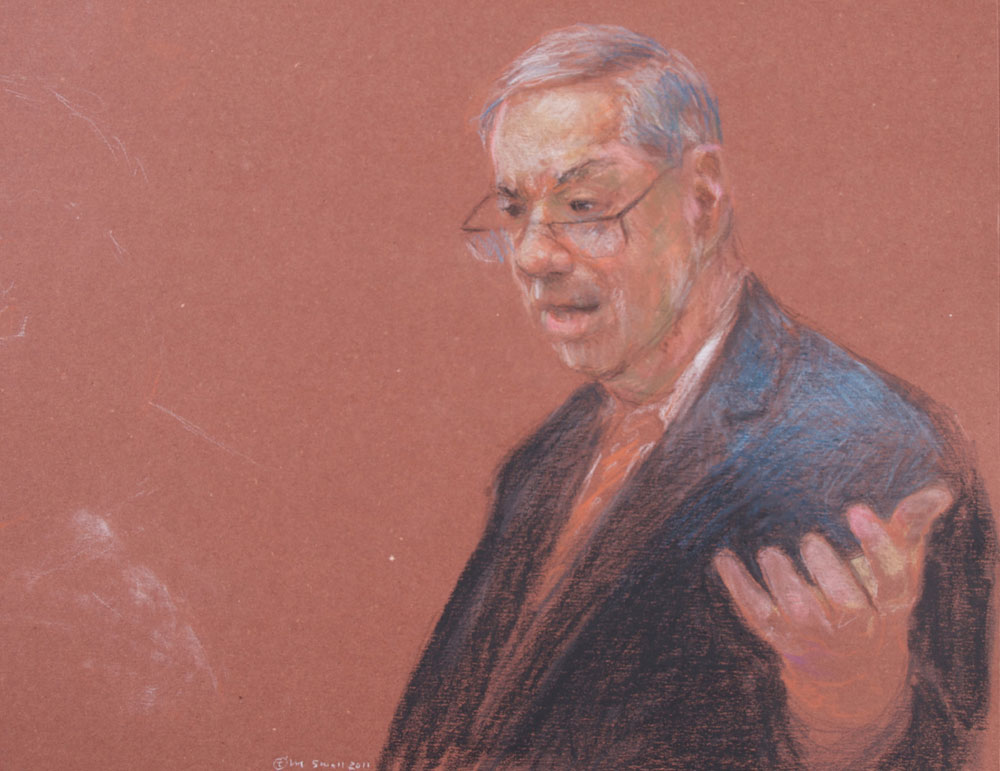 From Kiley, right, co-counsel for the former speaker:
"Joe [Lally] has been described to me on numerous occasions as the consummate salesman…
[Sal DiMasi] has indicated his innocence of these charges from Day 1, and before they were brought, and is continuing to assert that."
____
Boeri's DiMasi Case Coverage:
Produced by Benjamin Swasey