Hey, I'm Katherine. I grew up on the North Shore of Massachusetts, went to Tufts University and graduated in 2008. After graduation, I spent about six months trying to find work in my area of interest, which is international relations and public health. But there were no jobs.
So, I was encouraged to look for something a little bit different. It seemed as though everyone was encouraging you to spend a few years trying things out, and that's what I did. I moved to New York, spent a year acting and tending bar, and then I spent a year in Argentina, teaching English and bartending on the side. I moved back home with my parents, thinking it was time that I applied myself and really started making things happen, and I began seriously looking for work again. But all I could find was more bartending jobs. So I took one, in Cambridge, and moved into an apartment in the city. That was about two years ago. Since then, I've been stuck.
Okay. It is probably something close to 4 am on August 9th. Just got back from work at the bar. A lot of stuff is happening. And, well, let's do a little recap here.
So, I am a bartender in Davis Square. Pretty much full time for four years I've been doing this. It is exhausting, at times degrading, and not necessarily well paying. I am at a loss, a complete and utter loss of what direction to take, having graduated in 2008 and applying for jobs in one way or another for four years — unsuccessfully, to say the least. I need to change something. Obviously, something isn't right.
This is going to sound really twisted, but the sun is rising right now. Just trying to enjoy myself and talk with very wonderful, intelligent people who are in similar situations.
Katherine: It's ... wow ... 4 am in the morning after a thirteen-hour shift.
Patrick: Welcome to the average working week of a 26-year-old postgraduate.
These are my co-workers.
Patrick: I mean, you talk to your parents, you talk to your grandparents — they went to college, they got a job, there were jobs, everybody got hired.
Patrick: Colin, did you go to college?
Colin: Yes, I did.
Patrick: Where did you go?
Colin: Northeastern University.
Patrick: And what did you study?
Colin: Business, management, and finance.
Patrick: And what's your current occupation?
Colin: Bartender.
Katherine: I didn't need to go to school to be a bartender and that's what I do. Just saying, I've been doing it since I graduated and I could have saved my parents a lot of money if this is what I was going to end up doing for so long.
Patrick: That's the whole thing. You go to college for four years, to graduate, to get a job. You know, everything that I was raised to believe in turned out to be a lie. Trying to think about, oh, when am I going to have a family, when am I going to have a car, when am I going to have a house? Oh, by my math? By the time I'm 58.
My lease ends in September, September 1st — that would be in about three weeks — so I did not feel comfortable signing a lease for another year just so that I can continue bartending so that I can make money so that I can pay the rent to live in a city so that I can bartend. It's a cycle that I felt a need to break. We shall see.
Here we are at home having a family dinner, soon to become a probably very common event. I'm going to inevitably be moving back in the coming weeks.
Mom: You may come home temporarily, but I am sure that by September you will be gone. So we will be moving you in and out very quickly.
Katherine: I like that positivity, mom.
Mom: Katherine, did you send another email to Mr. Tallett?
Katherine: Yes, mother.
Mom: Because I ran into him, he and his wife were in the car, and he pulled over to talk to me to say that they have so many jobs at In Bev and all you have to do is —
Dad: Be persistent.
Mom: Be persistent and email him every week.
This is yet another one of my mother's very thoughtful, yet, not by any fault of her own, ultimately fruitless endeavors to try to get me a position.
Mom: Who's given you more connections than your mother?
Katherine: In fact I did send an email to Mr. Bob Tallett and he did email me back yesterday saying, "Thank you for your email, I will keep you in mind."
This is the fourth time this has happened.
After the tenth interview that didn't result in a job, maybe, with very little feedback or understanding of why, I find myself at a loss as to how to change my circumstances. I mean, I do, I get these interviews all the time. I had one yesterday, I have one on Monday. Every month for varying positions, but I get them. And oftentimes I get a second one, but then maybe it ends. Maybe I make it to a third.
Why did I not get the job? I have gotten so many conflicting answers that I don't really know how to make sense of it. I've been told alternatively that I have too much experience and that I don't have enough. Don't really know where to go from there.
"When you get told that you're not good enough, repeatedly, you can't help but begin to believe it."
Regina: Nowadays, you can't just go to college.
My aunt Regina is here.
Regina: You have to go for a master's. It's like, almost everybody's graduating with a college degree, so if everybody's got a college degree, how do you differentiate yourself from the way it was a generation ago?
Mom: Experience. Personality and drive. Just because everybody's got a degree doesn't make them equal.
Katherine: No, Reg, I get what you're saying and I completely agree with you, in a way. Now, it's not just to differentiate yourself — it's to get on equal playing fields, you need to get a degree.
Regina: Yes, exactly.
Katherine: Then you do the personality, and the experience, and your unique background — whatever. But you're not even being considered as part of the game if you don't have your master's.
Regina: Not in this generation.
Katherine: I didn't realize that, when you get out of college, you should be going back into school again. Because most of my successful friends have done that, or they already had jobs set up for them upon graduation from internships they'd formerly done.
Mom: A few years ago, we were encouraging people — "You don't have to get a job right away, go ahead, try acting for a while, go off and see the world." And when you came back, the economy had tanked.
Katherine: I went away because the economy had tanked. That was why I made those decisions.
Dad: Yes, that was a big factor.
Katherine: The reason that I decided to go and start acting, the reason I went to Argentina, is because I could not find a job.
Mom: All I think is it's delayed things for you.
Katherine: I know.
They hate the fact that I'm a bartender, they hate it. My mom just wants me to quit and just move home and just deal it with then. She doesn't have a longer-term plan than that. She's got a lot of faith, she's particularly religious, and she thinks that things will always work out for the best and if I have faith, things are going to work out.
And that's great, but, you know, you've got to do something about it.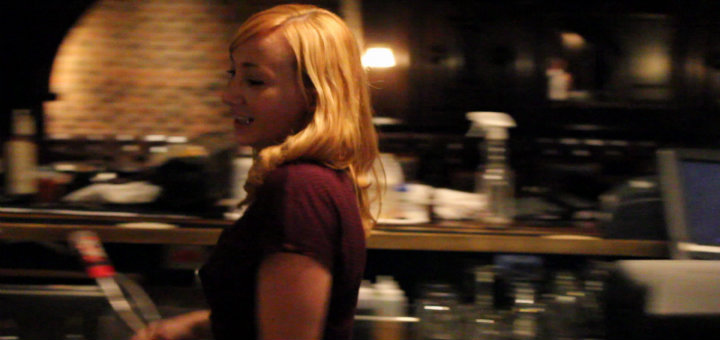 They tell you, you know, you go to school, you do well — I went to a good university, I graduated on time with good grades, with strong academics, strong qualifications — and they tell you that's enough. I didn't realize that it wasn't. I just didn't realize how the system worked. Now I do, and now I don't know what to do about it because I've lost so many years that every day it's more difficult, because the system favors people who just graduated, for example, or people who are currently in school.
It makes you second guess everything you thought you knew about yourself. When you get told that you're not good enough, repeatedly, you can't help but begin to believe it. And I think that can be the most debilitating thing to people in my circumstance. You know, they say that the definition of crazy is doing the same thing over and over again and expecting different results. Well, sometimes I think I'm crazy. Because that's exactly what I'm doing. I don't know what else to do.